The components you select for your dream bike are manually assembled at various stations in the manufactory. To protect the bike from dust and to cushion it for transport, it was previously covered with many individual single-use protective foils after the safety and quality inspection. This created a lot of plastic waste, so we thought about a more sustainable solution. The first step was to use "bike garages" instead of disposable protective foils. These reusable protective films are made of 80% recycled material and are also completely recyclable. Our dealers who receive the bikes in the bike garage have the choice of keeping them for their own use to protect the bikes from dust, or returning the protective films to us collectedly. Here at VELO DE VILLE they are reused to wrap the new bikes ready for delivery.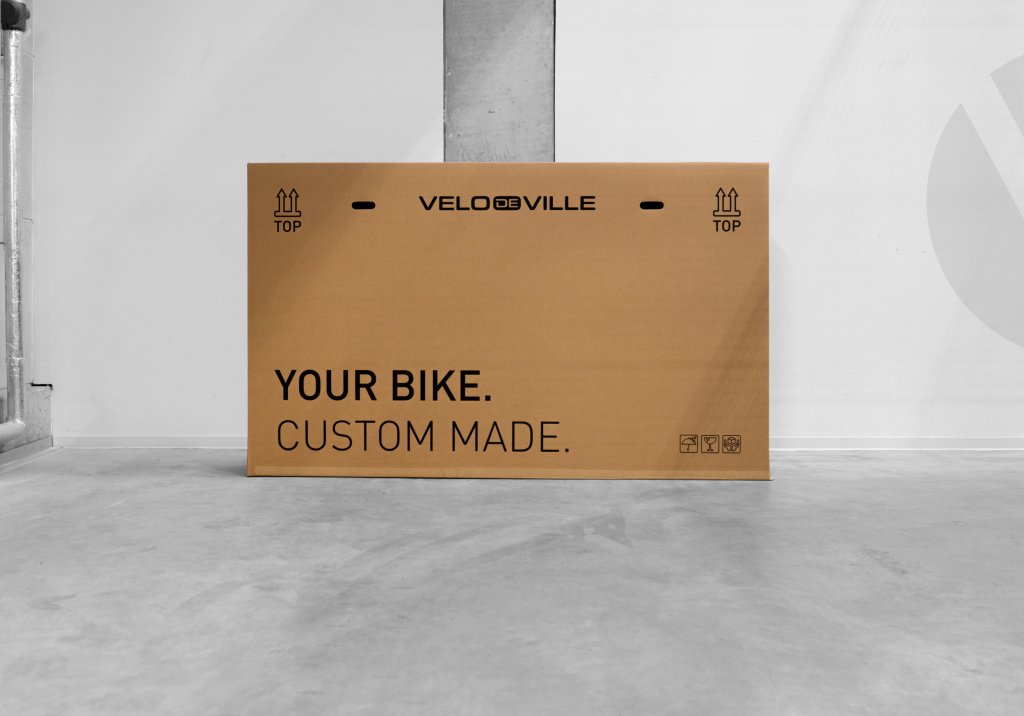 The bikes are packed in a space-saving way, with the handlebars turned in and the pedals dismounted under the bike garage in a shipping carton. Until now, these shipping cartons were delivered with delivery note bags made of plastic as well as with parcel tape made of PVC. In order to reduce the use of plastic and to be able to work with a single type of material already during delivery, we have made the modification to paper delivery note bags and paper parcel tape. This means that the shipping material in the cartons can be sorted easily and recycled when it is disposed of. In 2022, this changeover saved 56,000 plastic delivery note bags. 
In addition, we already avoid printing user instructions for individual parts, such as suspension forks, for each bike. Instead, only the most important operating instructions are included and we make the rest available in a digital form.
This way, we can save resources and protect the environment by making detailed changes to our packaging and delivery system.